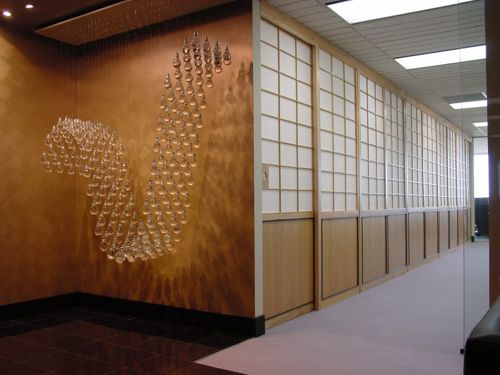 COMMERCIAL OFFICE & SHOP FITOUTS
Commercial Fit Out Services
We are proud of the fact that over 80% of our fit out clients in Perth are repeat business and we believe that establishing strong relationships built on trust is paramount.
Commercial Construction
Not happy with the existing structures in the space you're renting? The 4D Projects Fitout team are experienced in completing commercial construction projects as part of an office fitout, to make an area work better for your needs within the limitations of your lease.
Project Management
It is Wayne's job to stay on top of everything happening surrounding the fitout to ensure that no element gets left behind and everything is completed on time and under budget.
Office & Property Maintenance
Maintenance should be more than reactive, it should be proactive. Keeping on top of maintenance for features like safety signs and furniture to ensure they are in proper working order is important to minimise OHS dangers and resulting workplace accidents. 4D Projects offer ongoing office and property maintenance for clients beyond their fitout.
Commercial Defit
If you're leaving your current office or retail location and need to return the building to the bare bones it had before you moved in and meet the terms of your lease, we can help. A commercial defit can be a large and physically demanding job that can take up more time than you'd expect. The 4D Projects team can defit your old space while we help you fitout your next location.
COMMERCIAL FIT OUT PROCESS
Consultation
To start with, you need to be chatting to one of the best fit out experts in Western Australia. Wayne will attend to carry out an initial on-site consultation with you to note all your budgets, desires and expectations.
Don't forget to give Wayne the complete tour of your space along with any plans you may have. He also needs to see any favorite or not so favorite shop fit or office fit pictures and ideas you have been collecting. You need to explain your business' personality, brand and workflow requirements to set the right expectations for your build.
Site Measure
Wayne will then do a site measure and discuss any planning permissions or regulations you need for your particular workplace fit out process before going ahead and the team will visit your site and finalise the design concept, drafting presentations and time frame for completion.
Scope Of Works & Cost Estimate
Wayne will meet with you again to discuss the initial scope of works, construction specifications and detail in the quote, presenting a preliminary cost estimate and payment terms. You both decide on the best service contractors for each task.
Building Contract
Following that is the signing of the building contract and then Wayne can place orders for materials and awards the contractors.
Schedule Of Works
Wayne then carefully schedules the works, from manufacture through to supply and installation with total project management of all trade situations.
Handover
Finally, you get to check out your finished dream project. Whether you had some simple office partitioning, a completely new shop fitout, reconfigure of your retail space, or much needed renovation to your waiting area, now it is time for a final inspection and the rectifying of any defects.
Post Fitout Maintenance
We also offer any post fitout and on-going maintenance as required. Feel free to discuss this with Wayne.
We've organised this commercial fitouts process to take you on a step-by-step journey that lands at the doorstep of your exciting, low-stress business fit out.
But you don't have to do all the hard work to get your fit out up and running and impressing your clients. In fact, Wayne and our team will do ALL of the "heavy lifting" when it comes to creating a successful design and fitout that's just for YOU, on time and on budget, right to hanging the last piece of art.